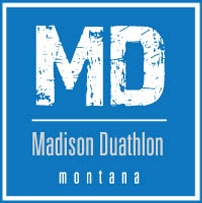 The Gold Miner's Trail – Ennis to Virginia City: Bike: 14 miles;       Run: 7 miles
This race is a part of the Greater Yellowstone Adventure Series (GYAS). The GYAS has selected Mariah's Challenge as the 2016 beneficiary charity, donating half of all series profits to the scholarship foundation.


From themadisonmarathon.com
First Leg of the Madison Trifecta
The Madison Duathlon (bike/run) started out as a natural expansion of a good idea (i.e. the Madison Marathon), but it quickly became a good idea on its own. It has grown in popularity every year from the inaugural race in 2012. Many duathletes who have competed in the Madison Marathon say they had more fun on the duathlon.
There are probably several reasons for its popularity. First off, it's a point to point duathlon that starts in one town and finishes in another (i.e. this ain't a loop route like most duathlons). The biking leg begins on Main Street in Ennis, one of Montana's most beautiful small townswhich is right on the banks of the Madison River. From Ennis, riders will cycle approximately 14 miles into the mountains separating Ennis from the Gold Rush Era town of Virginia City. The route is about eight miles of asphalt, along Varney Bridge Road that parallels the Madison River, and then six miles of good quality gravel roads along Shining Mountains Loop Road and Axolotl Lake Road. There will be at least a 1,000 foot gain in elevation (from 5,000 to over 6,000 feet above sea level) to the bike/run transition. Just a quick warning: There's a two mile uphill that will truly test your legs.
At Twin Lakes, the bikers hop off the bike and begin a one mile uphill run followed by a six mile downhill run to Virginia City. This will be on a dual track dirt/gravel road. The road is passable by trucks, but is a bit rough for vehicles. Runners will have no trouble navigating the route.
The home stretch is right on the main drag of Virginia City which was the Territorial Capitol of Montana from 1865 to 1875. It's a gold rush town and most of the original buildings are still there and many are still in use. Runners will see it all since the final mile includes a run down one set of back streets and then a final 500 or so yard home stretch on Main Street to the finish line right in front of the Madison County Courthouse. This is the oldest operating courthouse in the State of Montana.
Runners, friends, and families then have the entire town of Virginia City to relax, be a tourist, chill with ice cream, candy, and other food. This is your chance to visit one of America's best preserved gold rush era towns. This point-to-point duathlon is a good combination of natural beauty, wildlife, history, heritage, and a competitive challenge for any athlete who loves the West and Montana.
Event Sponsors
2016-07-10 06:00
2016-07-10 18:00
5th Annual Madison Duathlon
The Gold Miner's Trail – Ennis to Virginia City: Bike: 14 miles;       Run: 7 miles This race is a part of the Greater Yellowstone Adventure Series (GYAS). The GYAS has selected Mariah's Challenge as the 2016 beneficiary charity, donating half of all series profits to the scholarship foundation. From themadisonmarathon.com First Leg of the […]
Ennis, MT
valerie@digitalsparkcreative.com